Frequently Asked Questions
Due to the overwhelming response from the customers, we have put together this FAQ to answer the most commonly asked questions.This section will grow as more and more members of the customers give us valuable feeedback and suggestions on how to improve the tune.
F3 Brushed Version
Q:Can it handle 2S batteries?
Yes,it supports 2s lipo battery,which could give you even more fierce racing experience than 1s.Bridge these two pins to support 2s battery as show below.

Q:Can it handle 8.5mm high-speed motors?
Yes, the board can run 8.5mm motors.
F3 Brushed DSM Version
Q:What radio control protocols are used by the board?
The DSMX compatible version uses PPM 7 Channel that is compatible will all DSMX and DSM2 Spectrum radios.
Any radio that can take the Orange Rx version module, such as the Turnigy 9X, is compatible with the DSMX version of the board.
Q:Can it handle 8.5mm high-speed motors?
Yes, the board can run 8.5mm motors, but our recommendation is to use the 6mm size motors.
Q:Can it handle 2S batteries?
No, it is designed to handle only 1S safely. Using higher cell batteries can damage the board.
General
Q:What Flight Modes does it have?
The board runs the popular Cleanflight/Betaflight firmware that is fully customizable and includes several different modes: Auto-Level, Horizon (auto-leveling mode with ability to flip), and full manual (rate). You can also enable AirMode and be able to control the quad at any speed and attitude
Q:What is the size of the motor micro JST plugs?
The board uses the JST 1.25 2 pin style plug
Q:Does it have Altitude Hold?
No, we are focused on making this board the lightest and most agile that it can be, and are excluding extra features such as altitude hold for the time being.
Q:Any experience loading Betaflight onto it?
You could follower this user manual to flash Beraflight firmware to the fc.This is the stardand process to flash F3 EVO fc.The followring image shows the Newest BF firmware we tested.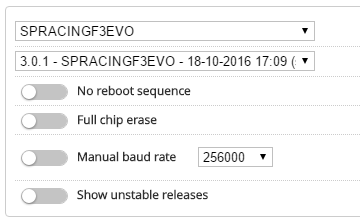 After the Betaflight firmware is flashed successfully,you need a little bit setup.
If the version of Betaflight you have is 3.0 or above,change ESC/Motor protocol to BRUSHED on the Configuration Tab.

If the version of Betaflight you have is 2.9.1,set ESC/Motor protocol to PWM on the Configuration Tab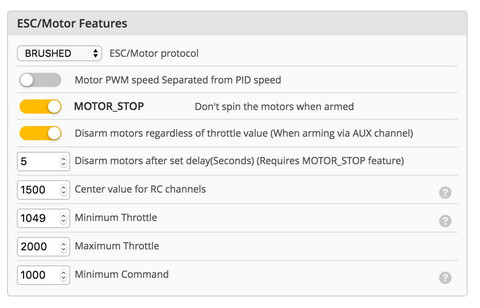 For all these firmwares,you need to go to CLI and type this in
set motor_pwm_rate=4000
save